Claims about minister Mark Garnier's conduct to be investigated
[ad_1]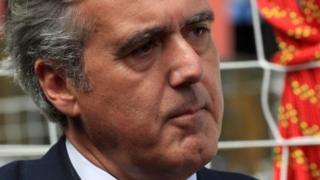 Theresa May has ordered an investigation into allegations about the conduct of minister Mark Garnier.
Mr Garnier admitted asking his secretary to buy sex toys for him and calling her "sugar tits," according to the Mail on Sunday.
The PM has asked the Cabinet Office to look at whether his reported actions broke the ministerial code, Jeremy Hunt told the Andrew Marr show.
Mr Garnier did not respond to requests for a comment.
The prime minister is also writing to the Speaker of the House of Commons, calling for a new contractually-binding grievance procedure to be set up for all MPs and their staff, said the health secretary.
Mr Hunt said recent newspaper reports about inappropriate behaviour by MPs and ministers "are totally unacceptable if true".
Asked about working conditions at Westminster, Mr Hunt said: "Things have got better in recent years but there is still some way to go."
International Trade Minister Mr Garnier is quoted by the Mail on Sunday as saying he does not deny the allegations and would "take it on the chin", suggesting crude comments he made to his secretary had been taken out of context.
[ad_2]

Source link