End of an era for Hong Kong trading floor
[ad_1]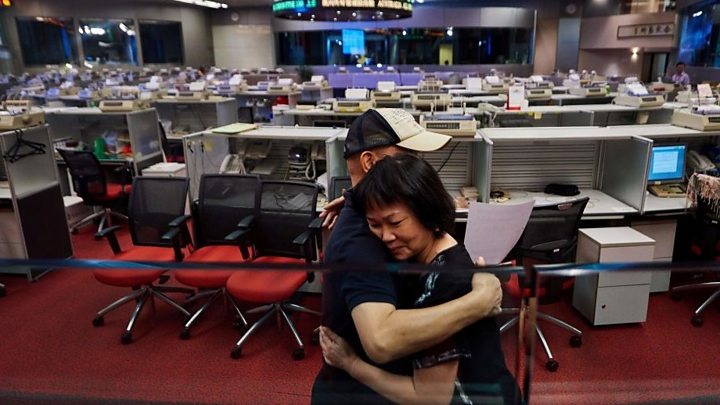 It's a bittersweet day at the Hong Kong stock exchange.
Trading at the physical trading floor will close, after 31 years.
In its heyday, during the 1980s and 1990s, the floor was home to more than a thousand traders.
But the rise of electronic and internet trading has changed the industry irrevocably.
This is something Christopher Cheung, who started in the industry in 1971, has experienced first hand.
"I have a deep affinity for this place. Every day, coming to work, we all sat side by side and talked all day," the lawmaker and the founder of Christfund Securities told me on the last day that he put on his distinctive red trader's vest.
"But, I know that things are changing. And financial technology is also changing. So, even if I am not entirely willing to leave, and to let this place go, we need to adjust and get with the times."
Deep history
Hong Kong's first stock exchange was formed in 1891, when this city was still a British colony. In the old days, I'm told, trading was dominated by British expatriates.
That's why Hong Kong Chinese traders formed their own trading associations starting in the 1960s.
The four different exchanges merged in 1986, moving into the current building in the central business district. By then, Mr Cheung had already been working for 15 years.
"At that time, there were more than a thousand people working here," he recalls.
"The printers were printing all the time. We were so busy sometimes, that we couldn't type all the info, so people would shout out what they were going to buy".
The frenetic excitement of the floor, not to mention the fortunes that were made and lost, came to define Hong Kong as a freewheeling, capitalist financial centre.
But by the year 2000, the "open outcry" style of trading was completely abolished.
Around the same time, many brokerages began moving trading operations to their own offices, instead of keeping people on the floor of the exchange.
In that year, floor trading accounted for more than 20% of total turnover.
In recent years, floor trading has contributed only a negligible amount with only a few dozen traders turning up on any given day.
Francis Lun, who now owns his own brokerage, started working in the securities industry 20 years ago.
He too was feeling sentimental about the closure.
"It's sad," he said. "You have to wax nostalgic about the good old days.
"I'm sorry to say that when automation began to affect the real world, at first I thought that drivers would be the first to lose their jobs, because if you have autonomous driving, you don't need a driver. But sadly it's the floor traders who lost their jobs".
Curtain closes
The mood is sombre on the floor of the exchange on Friday.
I saw only one trader when the opening bell rang at exactly 9:30.
With tears in his eyes, Mr Yuen told me he was feeling very sad.
"This place is like my home. In fact, I was here more than I was at home. So, closing this place is like, for me, losing my home".
After the closing bell, more than one thousand traders, former traders, financial industry veterans and government officials will gather one more time on the floor to toast each other and to remember the good old days.
Officials at the exchange say the floor will be renovated and turned into a space for conventions and exhibitions.
[ad_2]

Source link