Emergency GP service in Somerset 'unacceptable'
[ad_1]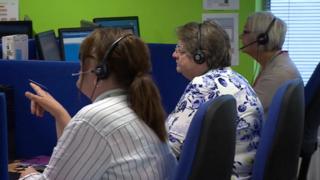 Out-of-hours GP services in Somerset are "unacceptable", the county's clinical commissioning group has said.
Its chief officer said bosses had considered cancelling the supplier's contract, but had not done so due to fears of winter pressures.
The service was rated inadequate by the Care Quality Commission (CQC) in August following an inspection.
Vocare, which runs it, has apologised for not meeting "standards expected" and said changes had been made.
Nick Robinson, chief officer of Somerset Clinical Commissioning Group (CCG), the body responsible for healthcare in the county, said it was "no secret" there had been "difficult conversations" with Vocare about its performance.
"We're not comfortable that they're meeting performance standards," he said.
He added the CCG had considered "scrapping" Vocare's contract, but "it would be enormously risky for the system if the out-of-hours and 111 service [which Vocare also runs] were massively destabilised as we go into winter, which is a hugely pressured time for the whole of the NHS system".
However, he said the CCG had been been "reassured by [Vocare's] reaction so far, that they are working to provide us with that service through the winter".
Mr Robinson said the possible introduction of a new "strategic plan" for healthcare in Somerset next year, which would lead to a change in the out-of-hours contract, had also been a factor in not cancelling the contract.
'Rapid improvement'
In August Wellington House, the premises run by Vocare to provide the out-of-hours service, was rated inadequate following a CQC inspection in April, and was put in special measures.
Vocare's deputy organisational medical director, Alan Maguire, said the service in Somerset "has not always met the standards expected and we sincerely apologise".
"We have learned from this and are working very hard with our partners in the NHS to get every aspect right."
He added that "operational changes" had been made.
Mr Robinson said he "did not accept that things are OK now".
"Have we seen enough movement recently on improvement? No we haven't."
He said that Vocare's plans to improve "seem reasonable, but we're going to hold them to account for a rapid improvement from here on in".
In August the CQC rated the out-of-hours GP service in Somerset as inadequate.
Following the rating the BBC received an anonymous letter, apparently from a member of staff within the service, which claimed night-time doctor shifts had not been filled, and doctors were brought in from as far away as Newcastle to plug gaps in out-of-hours cover.
It also claimed Vocare hired doctors without carrying out adequate background checks.
A former Vocare HR manager told the BBC he agreed with most of the claims, and agreed there was inadequate vetting of agency doctors.
The manager said some doctors Vocare employed had criminal records including one with mental health issues.
Criminal convictions do not necessarily prevent doctors still being able to practice. The doctors were at the time still on the General Medical Council Register, though one had been suspended twice.
In response Vocare said its medical director and deputy medical director were both based in Newcastle and performed shifts in centres across the country.
A spokesman said out of area GPs had been used "on occasions… primarily in 2015", but said their use had been "significantly reduced… and has now been virtually eliminated".
[ad_2]

Source link