Sounds Like Friday Night: Jason Derulo says new music shows needed
[ad_1]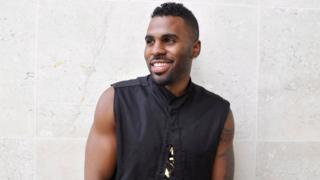 Jason Derulo is set to be the first guest host of BBC One's new primetime music show Sounds Like Friday Night, which launches on, umm, Friday night. What can viewers expect from the show's debut?
Celebrities who turn up to TV studios often have a list of diva demands for their dressing room.
A bowl of exclusively yellow M&Ms. A room filled with white lilies. Or, in Justin Bieber's case, an Indian yoga casket.
So what will Jasooooon Deruuuuuulo be requesting when he arrives on set?
"I'm going to demand a basketball court," the singer laughs as he speaks to BBC News.
"I have to have a basketball court in the back, and if anyone comes back there just know that you might get dunked on.
"So you've got to be careful where you walk. If you walk underneath the goal I'm dunking on you Shaq-style."
(He's referring to US basketball player Shaquille O'Neal, to save the non-sports fans among us a trip to Google.)
Sounds Like Friday Night will be the first regular, mainstream music programme on the BBC since Top of the Pops was cancelled in 2006.
But Jason won't be riding solo, as regular hosts Greg James and A.Dot will be joining him to do sketches and help introduce and interview other artists.
"It's going to be a lot of fun," says Jason, who is no stranger to TV presenting.
"I've done quite a bit – I was a presenter on the Mobo awards, in the US I did the iHeart Radio awards, so I've done a bit of presenting in my day.
"Whenever I can have a good time with a show that I'm a fan of, or people that I'm a fan of, I'm always down."
Jason will be performing himself on the first show, and introducing artists like Charlie Puth and Jessie Ware.
(Next Friday's episode will be a Liam special – with Payne guest presenting and Gallagher performing.)
Music shows used to be everywhere on British TV – CD:UK, Popworld, Top of the Pops – but these days a band is left with few choices if they can't get on to Jools Holland or that five-minute slot at the end of The Graham Norton Show.
So is there a gap in the market for a new music series like this?
"100%," Jason says. "I think people are craving it more than they know. It's something that we all have a little nostalgia for. So this show will definitely be one of those ones that brings back old memories and may start a new journey.
"People have so many options these days, so you've just got to give them something that's going to keep their eyes glued.
"There's definitely a slot for that, it just has to be something that's so captivating that means they're going to stop looking at their phones or YouTube."
Sounds Like Friday Night debuts on BBC One at 19:30 BST on Friday 27 October.
---
Follow us on Facebook, on Twitter @BBCNewsEnts, or on Instagram at bbcnewsents. If you have a story suggestion email entertainment.news@bbc.co.uk.


[ad_2]

Source link