Burberry's Christopher Bailey to leave at end of 2018
[ad_1]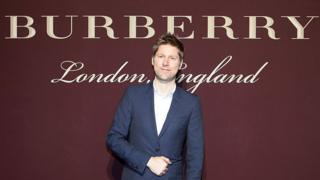 Burberry's president and chief creative officer, Christopher Bailey, is leaving the company after 17 years.
Mr Bailey will go at the end of 2018.
He was chief executive of the company between 2014 and July this year, when he moved aside to his current post.
Burberry said in a statement Mr Bailey had been a driving force behind its transformation, taking it from a "small licensed outerwear business to become one of the world's largest and most admired global luxury brands".
Mr Bailey said his decision to leave "was not an easy one".
No reason for his departure was given in the statement but he added he was "excited to pursue new creative projects".
[ad_2]

Source link