Llangammarch Wells fire: Multiple deaths probe continues
[ad_1]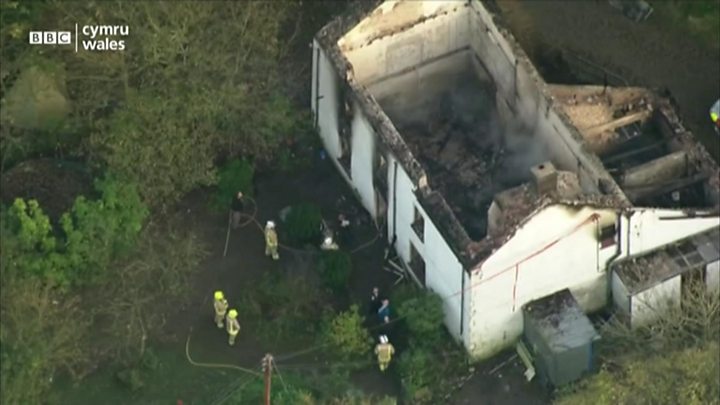 Investigations are continuing into a fatal house fire in which a father and several of his children are feared to have died.
Three children escaped the blaze at a remote farmhouse in Llangammarch Wells, Powys, in the early hours of Monday.
Police said they could not identify the deceased or confirm numbers due to the "severity of damage" and are continuing to investigate the cause of the fire.
One of those missing has been named locally as David Cuthbertson.
Tributes have been made to Mr Cuthbertson who is believed to be in his sixties and have lived at the house with several of his children.
Richard Lewis, Ch Supt of Dyfed-Powys Police said: "Specialist scientists and fire investigators are still assessing the scene and at this time we are treating the cause of the fire as unexplained."
The three children who escaped were aged 13, 12 and 10. They were taken to hospital with non-life-threatening injuries.
Nic North, BBC Wales News in Llangammarch Wells
Llangammarch Wells is in shock as it awaits official confirmation of what many believe they already know.
Few in this tightly-knit community are in any doubt about the identity of those who perished in the midnight blaze at the farmhouse.
On Monday, the village of less than 500 people woke to a thick fog that concealed the smoke still billowing from the wrecked building high on the side of a valley above the village.
But as word of the tragedy spread, the grief felt at the loss of so many members of such a well-loved family was plain to see.
Most were too stunned to speak of the blaze and the lives it has ended.
Those with words to share told only of a father who loved his children.
Neighbour Ron Birchall, 73, described Mr Cuthbertson as a "great guy" who "loved his kids".
Local Conservative MP Chris Davies said the community was "devastated" by tragedy and that the family were "well known in the community".
He said the community had come together in the aftermath of the fire, adding: "The affects of this will be felt for many years to come in Llangammarch."
A fundraising page set up to help the family has raised more than £2,500 – more than double its £1,000 target – in less than 12 hours.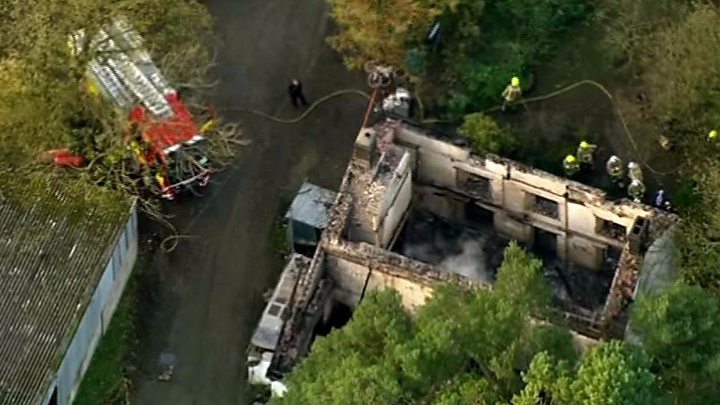 [ad_2]

Source link