Samsung Electronics posts record quarterly profit
[ad_1]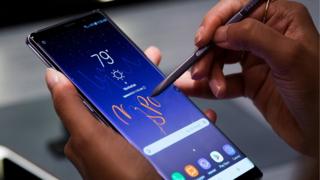 Samsung Electronics has posted its best quarterly profit ever, driven by higher memory chip prices and a recovery in smartphone sales.
The firm's net profit for the July to September quarter hit 11.2 trillion won ($10bn; £7.6bn).
The result nearly tripled profits reported in the same period a year earlier.
It comes weeks after chief executive Kwon Oh-hyun resigned from the firm, citing an "unprecedented crisis".
At the time, Mr Kwon said the company's current profitability was "merely a fruit of decisions and investment made in the past".
His resignation came days after Samsung group's heir apparent Lee Jae-yong began an appeal against his conviction and five year jail sentence for bribery and corruption, stemming from payments to the secret confidante of South Korea's ousted president Park Geun-Hye.
Samsung Electronics is regarded as the jewel in the crown of the Samsung conglomerate, which is made up of 60 interlinked companies.
Record result
Samsung Electronics described its latest quarterly result as a "robust performance" overall.
The world's biggest memory chip and smartphone maker expects strong demand for its products to continue, putting it on track for a record annual profit.
It will also pay around $26bn in dividends to shareholders over the next three years.
While memory chips were the main driver of Samsung's earnings, its mobile phone business was given a boost by its new Note 8 smartphone which received the firm's highest number of pre-orders.
It marks a significant turnaround for the firm which was hit badly by the global recall of its flagship Note 7 smartphone in 2016, following the fiasco with its overheating and exploding batteries.
[ad_2]

Source link