WPP battles 'low growth' advertising market
[ad_1]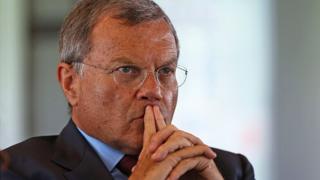 Advertising giant WPP has cut its sales and profit margin forecasts for the second time in two months.
WPP said like-for-like net sales growth and operating margin would both now be flat this year, instead of increasing by 1% and 0.3% respectively as the firm predicted in August.
The forecast, which it said it would be revising shortly, came in its nine-month figures.
It said of all its regions, the UK performed the best.
Sir Martin Sorrell, WPP's chief executive, said the world was in a "new normal of low growth, low inflation and limited pricing power", which had exacerbated an emphasis on cost reduction.
He told the BBC the low growth environment was leading clients to keep a tight control on spending: "Consultants are going to clients and suggesting they're spending too much money across the board."
Ultra-low interest rates were "driving pools of money into activist investing" which typically resulted in a squeeze on companies' budgets, he said.
He also claimed that Facebook and Google, growing platforms for advertisers, were not a threat to his business, and were, in fact, WPP's biggest destination for investment.
Sir Martin, who has been chief executive at WPP for more than 30 years, said three major forthcoming events could help offset the current weak spending environment.
"Any further marketing investment reduction may well be countered by the mini-quadrennial events of 2018 – the Winter Olympics in South Korea; the FIFA World Cup in Russia; and the mid-term Congressional elections in the United States."
[ad_2]

Source link