Hillsborough report urges change of attitude in authority
[ad_1]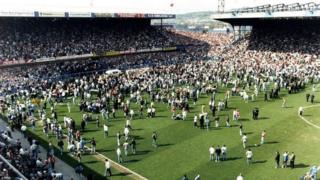 A report on the experiences of people bereaved by the Hillsborough disaster has made 25 recommendations to improve the way victims are treated.
Bishop James Jones wrote the report after inquests into the deaths of 96 Liverpool fans at a 1989 FA Cup match.
Of the 25 recommendations made, three are identified as crucial.
He said: "The way in which families bereaved through public tragedy are treated by those in authority is in itself a burning injustice."
The report was commissioned by Theresa May when she was Home Secretary after verdicts of unlawful killing were returned in the second Hillsborough inquests last year.
'Culture change'
Bishop Jones said: "What is needed is a change in attitude, culture, heart and mind.
"To bring this about, I first ask that those in positions of leadership listen seriously to the experiences of the Hillsborough families described in this report."
The former Bishop of Liverpool set out 25 "essential" learning points in his report, titled The Patronising Disposition of Unaccountable Power, and called for three crucial ones:
A charter for families bereaved by public tragedy
Proper participation of bereaved families at inquests
The creation of a "duty of candour" for police officers
He said: "The experience of the Hillsborough families demonstrates the need for a substantial change in the culture of public bodies."
Bishop Jones proposed that public bodies sign up to a Charter for Families Bereaved Through Public Tragedy compelling them to approach public inquiries and inquests in an "open, honest and transparent way".
He called for a "duty of candour" which would require police officers, serving or retired, to cooperate fully with investigations by the Independent Police Complaints Commission or its successor.
He said: "I believe there is at present a gap in police accountability arrangements and propose a duty of candour which addresses the unacceptable behaviour of police officers – serving or retired – who fail to cooperate fully with investigations into alleged criminal offences or misconduct."
[ad_2]

Source link