Sir Michael Fallon resigns over behaviour claims
[ad_1]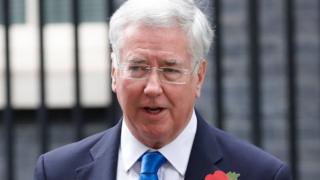 Defence Secretary Sir Michael Fallon has resigned following allegations of past behaviour.
He said his behaviour may have "fallen short" of the standards expected by the UK military and said it was right that Parliament was now taking this issue seriously.
The BBC understands his decision was not related to new or specific claims.
The PM said she appreciated the "serious manner" in which Sir Michael had considered his role.
Theresa May said she also appreciated the "particular example you wish to set servicemen and women and others".
In his resignation letter, Sir Michael said: "A number of allegations have surfaced about MPs in recent days, including some about my previous conduct.
"Many of these have been false but I accept that in the past I have fallen below the high standards that we require of the Armed Forces that I have the honour to represent."
He added that it had been a "privilege" to have been defence secretary over the past three and a half years.
[ad_2]

Source link