UK bank accused of 'criminal complicity' in South Africa scandal
[ad_1]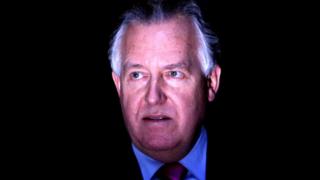 Lord Peter Hain has said a UK bank should be investigated for "possible criminal complicity" in connection with corruption allegations in South Africa.
Lord Hain told the House of Lords he had sent print-outs of transactions and named the bank concerned in a letter to Chancellor Philip Hammond.
He said the bank had "aided and abetted" money-laundering.
Lord Hain has previously called for UK authorities to examine the role of British banks in the scandal.
The controversy relates to the close relationship between the wealthy Gupta family and South Africa's President, Jacob Zuma. The Guptas are alleged to have bought influence in government in order to loot state enterprises.
Mr Zuma and the Guptas strongly deny wrongdoing and say they are victims of a "politically motivated witch-hunt".
HSBC and Standard Chartered are being investigated for their roles in South Africa following Lord Hain's initial call two weeks ago for a probe into UK banking connections with the scandal.
An HSBC spokesperson said: "On the inquiries as a result of Lord Hain's letter to the chancellor, obviously we are responding to those inquiries that have come in from the [Financial Conduct Authority] and also from South African authorities, and there is nothing more I can really add at this point in time."
Standard Chartered said following Lord Hain's initial call: "We are not able to comment on the details of client transactions, but can confirm that following an internal investigation accounts were closed by us in 2014."
Lord Hain said the evidence he had sent to the chancellor showed the illegal transfer of funds from South Africa made by the Guptas via accounts in Dubai and Hong Kong.
He said illicit transactions were "flagged internally in the bank concerned as suspicious, but I'm reliably informed they were told by the UK headquarters to ignore it".
He said that amounted to money-laundering "being sanctioned" by a British bank.
"Can the chancellor please ensure that such evident money laundering and illegality is not tolerated and that the bank is investigated for a possible criminal complicity over this matter?" he said.
"Urgent action is needed to close down this network of corruption."
In September, Lord Hain, a leading anti-apartheid campaigner who grew up in South Africa, requested that the Financial Conduct Authority, the Serious Fraud Office and the National Crime Agency look into whether British banks facilitated alleged money-laundering by the Gupta family.
At the time, he told the House of Lords that the banks may "inadvertently have been conduits" for up to £400m of illicit funds.
[ad_2]

Source link