Interest rates: How the MPC voted
[ad_1]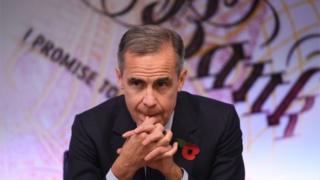 There was quite a change to the voting profile of the nine experts that make up the Monetary Policy Committee (MPC) headed by Bank of England governor Mark Carney.
Five members of the panel changed their position compared with the previous interest rate meeting in September.
Here's the full list of who voted and how.
Mark Carney, Bank of England Governor
In late September Mr Carney hinted that he might be inclined to raise interest rates, having previously voted to keep them on hold. But Mr Carney has hinted at interest rate increases in the past, but then not voted for them, which has earned him the nickname "unreliable boyfriend". This time he did make the switch.
Ben Broadbent, Deputy Governor of Monetary Policy
Mr Broadbent switched his position to support a rate increase. Always measured with his words, it has been hard to discern his position. But he is seen as a strong supporter of the Bank governor.
Andy Haldane, Chief Economist
Mr Haldane said in June that the Bank needed to "look seriously" at raising interest rates. So his decision to support a rate rise is not a big surprise.
Silvana Tenreyro, external MPC member
Ms Tenreyro was only appointed to the MPC in June. She voted to keep rates on hold in September, but has switched.
At her appointment hearing in October she said that if slack continued to disappear within the economy then she would be "minded" to vote for an increase.
Gertjan Vlieghe, external MPC member
Mr Vlieghe also changed his view. In September he said: "We are approaching the moment when Bank Rate may need to rise".
Those five were joined by two MPC members who had previously voted for an interest rate increase.
Ian McCafferty, external MPC member
Mr McCafferty has voted for rate increases frequently over the last few years. In July, he said that an interest rate increase would be the "prudent thing to do".
Michael Saunders, external MPC member
Mr Saunders has been voting for a rate increase since June.
Two members of the MPC voted to keep interest rates on hold. They argued that so far there was a lack of evidence that wage growth was accelerating at a significant pace.
Sir Jon Cunliffe, Deputy Governor, Financial Stability
Voted to keep rates on hold.
Sir Dave Ramsden, Deputy Governor, Markets and Banking
Voted to keep rates on hold.
[ad_2]

Source link