Manchester attack: Militia 'to co-operate' on extradition
[ad_1]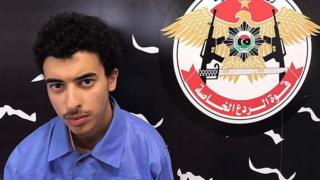 The Libyan militia holding the brother of Manchester Arena bomber Salman Abedi has said it is "ready to co-operate" with the UK's extradition request.
Hashem Abedi was arrested in the country shortly after the suicide attack that killed 22 people.
Greater Manchester Police has issued an arrest warrant in relation to murder, attempted murder and conspiracy to cause an explosion.
The militia group had earlier refused to consider the request.
Mr Abedi is being held by the Deterrence Force (Rada), a counter-terrorism group allied to the UN-backed government in Tripoli.
A spokesman said Mr Abedi would be sent to Britain if Libya's attorney general approved his transfer.
Salman killed 22 people and injured hundreds more at an Ariana Grande concert on 22 May.
Both brothers had travelled to Libya in April, before Salman returned alone, carrying out the attack.
His brother, then aged 20, was arrested in Tripoli by members of the Rada Special Deterrence Force a day after the bombing.
Prime Minister Theresa May's official spokesman said: "We are determined to do everything in our power to ensure that those suspected of being responsible for the Manchester attack are brought back to face justice in the UK.
"The home secretary continues to receive regular updates and we will work closely with the Crown Prosecution Service, police and Libyan authorities to try to secure the return of Abedi to the UK."
On Wednesday police revealed 512 people are now known to have been injured in the blast.
Those who were injured suffered both physical and psychological injuries, a GMP spokeswoman said.
A total of 112 people needed hospital treatment after the attack, with 64 suffering "very serious" injuries.
Physical injuries include paralysis, loss of limbs, internal injuries and very serious facial injuries. Many have had complicated plastic surgery.
Two people remain in hospital more than five months later.
[ad_2]

Source link