Contaminated blood scandal to have 'full statutory inquiry'
[ad_1]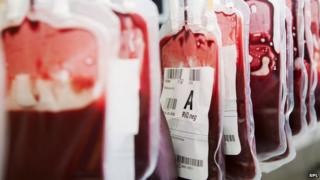 A "full statutory inquiry" will be carried out into the contaminated blood scandal that left at least 2,400 people dead, the government has announced.
The decision was made after victims and families expressed strong views over the involvement of the Department of Health.
The inquiry will now be the responsibility of the Cabinet Office.
Confirming in the summer that an inquiry would be held, Theresa May said it had been "an appalling tragedy".
About 7,500 people, many with an inherited bleeding disorder called haemophilia, were given blood products infected with hepatitis C and HIV in the 1970s and 80s.
What is the contaminated blood scandal?
Families and victims had been asked whether they wanted a judge-led inquiry or a Hillsborough-style panel.
Downing Street had then indicated there would be a further announcement by the end of this year confirming what form the inquiry would take.
A spokesman for the prime minister said: "We have been absolutely clear of our determination to establish what happened in relation to the contaminated blood scandal of the 1970s and 1980s and to work with the families of those affected, and we are now moving forward with that process.
"There was a strong view that it should be done away from the Department of Health.
"We have listened to those views and that's why it will be conducted under the auspices of the Cabinet Office."
The decision was made after a public consultation received more than 800 responses.
[ad_2]

Source link