Countdown to Brexit: How to divide food sold to the EU
[ad_1]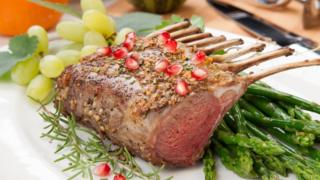 Here's a Brexit recipe: lamb with grapes and lemon.
I haven't tried it, but the recipe does exist and it looks delicious in the pictures I've seen. It also gives us the ingredients for looking at one of the food issues that comes up as the UK prepares to leave the European Union.
All of them are covered by a trade arrangement that most people have spent their lives blissfully unaware of.
It goes by the name of "tariff rate quotas".
Now what on Earth does that mean?
When countries import goods, including foods, they often impose a tariff, a tax that is applied only to traded goods.
The UK does not currently have its own national tariffs. They are set by the EU for all member nations.
Countries and blocs of countries such as the EU, that are members of the World Trade Organization, have made commitments to the others that the tariffs will not exceed certain levels.
Many countries have agreed to import a certain quantity of some goods at a lower or even zero tariff, as a negotiated compromise between the interests of:
overseas exporters
domestic producers concerned about exposure to foreign competition
consumers
That quantity of goods that gets in on the lower tax rate is called a tariff rate quota.
It is a bread and butter dish on the trade negotiating menu, routine enough to have its own acronym, which is TRQ.
TRQs are often used for farm products.
The EU has about 100, negotiated at the WTO on behalf of all member states, which currently have an impact on the UK.
All three of our ingredients have a TRQ for imports into the EU.
In the case of lamb, 280,340 tonnes a year can be imported at a reduced tariff.
There's a quota for table grapes of 1,500 tonnes, and for lemons it's 10,000 tonnes.
So how does Brexit come into this picture?
The UK and the remainder of the EU have to work out how to divide the existing TRQs.
The EU doesn't want to take the existing TRQs for the 28 states and use them for the remaining 27, because each EU country may end up importing more food on the low tariffs, therefore creating tougher competition for EU farmers.
Unlike on many other Brexit issues the UK and the EU actually agreed, and told the other WTO members, in a letter, that they wanted to divide the TRQs in line with recent trade flows.
That would mean, for example, the UK taking a large share of the quota for lamb because comparatively the UK has been importing more lamb than the other EU countries.
But the proposal was met with a raspberry by several countries, including the United States, Canada and New Zealand.
Although the UK-EU proposal would give the same total TRQs as today, they would lose flexibility.
As things stand, if the price of lamb fell in the UK, they could divert some or all of it to other parts of the EU. After Brexit, that would not be possible.
The other WTO countries feel they should be compensated with a higher combined TRQ in order to maintain the same commercial benefit they currently enjoy.
In other words, they see Brexit as an opportunity to negotiate better access for their goods to Europe.
There is another option.
In some cases, the UK could decide to remove the tariffs altogether.
Now, some economists think we should do that anyway with all tariffs, that Brexit is a glorious opportunity for unilateral free trade.
This seems politically unlikely for products where there are UK producers.
In our recipe, lamb is a case in point.
Unrestricted tariff free access for lamb from anywhere in the world would be a problem for many British lamb producers.
With lemons, that is not an issue. We are not citrus producers.
There are British table grapes. It's not a big industry, but it is a new one so that might need some consultation with producer and consumer groups too.
There's another complication: cross-Channel trade.
British farmers can now automatically sell, for example, their lamb to France tariff free.
The same applies to French cheese sold in the UK.
Depending on what sort of deal there is, that might not be true after Brexit.
So will the UK and the EU get some share of each other's TRQs? That's another thing to be negotiated.


[ad_2]

Source link