Fears for Nazanin Zaghari-Ratcliffe after Boris Johnson remark
[ad_1]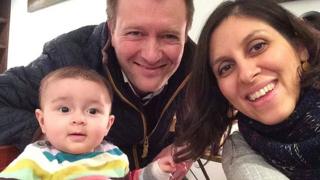 A charity fears a British-Iranian woman held in Iran could have her prison sentence doubled following remarks made by the foreign secretary.
Boris Johnson told a Commons committee Nazanin Zaghari-Ratcliffe was "training journalists" when she was arrested at Tehran Airport in 2016.
But Mrs Zaghari-Ratcliffe had said she was there on holiday and the Thomson Reuters Foundation has urged Mr Johnson to correct his "serious mistake".
The Foreign Office is yet to comment.
Mrs Zaghari-Ratcliffe is currently serving a five-year sentence after Iran tried her on charges of trying to overthrow the government. She denies all the allegations against her.
'Used as evidence'
She lost her final appeal in April 2017 but has since faced two more charges relating to an accusation of plotting to topple the regime in Tehran.
Mrs Zaghari-Ratcliffe has worked for the Thomson Reuters Foundation and the BBC, but insisted the 2016 visit was for her daughter to meet her grandparents.
Mr Johnson was appearing before MPs on the House of Commons Foreign Affairs Select Committee on 1 November, criticised Iran over the case before saying: "When I look at what Nazanin Zaghari-Ratcliffe was doing, she was simply teaching people journalism as I understand it.
"[Neither] Nazanin Zaghari-Ratcliffe nor her family has been informed about what crime she has actually committed. And that I find extraordinary, incredible."
Four days later, Mrs Zaghari-Ratcliffe was summoned to court where the foreign secretary's comments were cited as evidence against her.
At this hearing she was accused of engaging in "propaganda against the regime".
The Iranian judiciary's High Council for Human Rights said Mr Johnson's comments "shed new light" on the charity worker and proved Mrs Zaghari-Ratcliffe "had visited the country for anything but a holiday".
Monique Villa, chief executive of the Thomson Reuters Foundation, called on Mr Johnson to "immediately correct the serious mistake he made".
Ms Villa said there was a "direct correlation" between Mr Johnson's comments and the unscheduled court appearance.
"This accusation from Judge Salavati can only worsen her sentence. She is obviously a bargaining chip between the UK government and Iran and this injustice must stop as soon as possible.
"Whatever is at stake should be paid attention to by the UK government."
[ad_2]

Source link