May: We won't shield UK economy from market forces
[ad_1]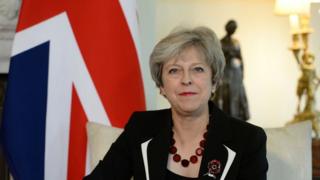 The government will not protect the UK economy from market forces after Brexit, Theresa May is set to warn.
Speaking at business group the CBI's conference the prime minister will tell firms it has to "make strategic decisions" about how best to support different sectors of the economy.
"We believe in the free market and won't attempt to shield the economy from market forces," she will say.
The speech comes ahead of the government industrial strategy report.
The white paper, due to be published later this month, will set out ways in which the government can provide support to businesses by addressing regulatory barriers, agreeing trade deals and helping to establish institutions that encourage innovation and skills development.
It will build on January's green paper which pledged to invest in science, research and innovation and upgrade infrastructure.
The plan is aimed at boosting the post-Brexit UK economy.
Mrs May is to emphasise that it will avoid the "failed state interventionism of the 1970s".
The prime minister is also expected to try to reassure firms about the opportunities following the UK's exit from the EU, telling them the next decade will mark "a new chapter in the story of the British economy".
"As we look ahead to the next 10 years for Britain's economy, we should do so as rational optimists. There are huge opportunities ahead," she will say.
And she will also reiterate her support for a post-Brexit transitional period to prevent firms facing "a cliff-edge" scenario where the UK's EU exit leads to an abrupt change in rules.
"I have made clear that a strictly time-limited implementation period will be crucial to our future success," she will say.
Mrs May will say she wants to agree "the detailed arrangements for this period as early as possible".
[ad_2]

Source link