Priti Patel apologises over undisclosed Israeli meetings
[ad_1]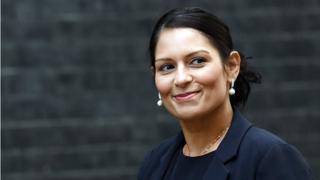 Priti Patel has apologised for holding a series of undisclosed meetings with senior Israeli officials during a private holiday over the summer.
The international development secretary met senior figures, including Israel's Prime Minister Benjamin Netanyahu.
Ms Patel apologised for failing to follow the usual procedures, including informing the Foreign Office.
She also said she regretted suggesting Foreign Secretary Boris Johnson knew in advance of the visit when he did not.
The BBC revealed on Friday that Ms Patel had held a series of undisclosed meetings with business, political and development figures during a family holiday to Israel in August.
She was accompanied at many of the meetings by an influential pro-Israeli Conservative lobbyist Lord Polak.
Ms Patel has previously defended her actions, saying she had paid for the holiday herself and while in Israel had taken the opportunity to meet people for the purpose of building links between the two countries.
'Enthusiasm'
She told the Guardian that Foreign Office officials and the Foreign Secretary himself "knew about the visit".
In a statement on Monday, Ms Patel, who is a long-standing supporter of Israel and a former vice-chairman of Conservative Friends of Israel, said she wanted to "clarify her position" by giving full details of the 12 meetings she held and set the record straight about when the government was informed about the trip.
Among meetings that were not previously reported, she said that she had discussed Mr Netanyahu's forthcoming visit to the UK with the PM, the Israeli "domestic political scene" and UK-Israeli collaboration.
She said she had also met other senior figures in the Israeli government, including security minister Gilad Erdan and foreign ministry official Yuval Rotem.
While the Foreign Office was aware of the visit "while it was under way", she said she was wrong to have given the impression or to imply that the department and Mr Johnson knew about it in advance.
She said she "regretted the lack of precision in the wording" of her previous statement about the trip.
"This summer I travelled to Israel, on a family holiday paid for myself," she said in a statement.
"While away I had the opportunity to meet a number of people and organisations…In hindsight, I can see how my enthusiasm to engage in this way could be mis-read, and how meetings were set up and reported in a way which did not accord with the usual procedures. I am sorry for this and I apologise for it.
"My first and only aim as the Secretary of State for International Development is to put the interests of British taxpayers and the world's poor at the front of our development work."
Labour has called for an inquiry into whether Ms Patel broke the ministerial code or the rules on lobbying, which Downing Street has previously rejected.
[ad_2]

Source link