Theresa May meets other party leaders for anti-harassment talks
[ad_1]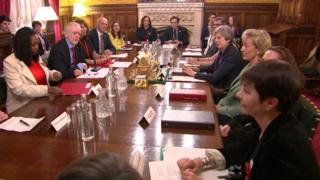 Prime Minister Theresa May is meeting other party leaders to discuss setting up an independent grievance procedure for Parliament.
It comes as several Conservative and Labour MPs are investigated over claims of sexual misconduct.
Mrs May earlier called for a "new culture of respect" at Westminster.
Labour leader Jeremy Corbyn has called for training for MPs in managing their offices and a new independent body to support staff who suffer mistreatment.
In a letter to the prime minister ahead of the meeting, Mr Corbyn said MPs should undergo training after each general election in employment standards.
He said a new body should be set up to provide an "independent route" to counselling, reporting and representation through complaints procedures, and have powers to recommend reporting of criminal allegations to the police.
He said political parties should encourage all staff to join a trade union, as they can provide a "vital mechanism" for strengthening effective action and protection from sexual and other harassment and abuse at work.
Green Party co-leader Caroline Lucas, who last week called for MPs to be educated on consent, said any new training programme should come into force immediately, rather than after an election.
She said: "Today I'll be urging the prime minister to introduce consent lessons, look at reforming employment structures so that MPs are no longer employers, bring in a code of conduct for MPs and resource parties to help them have more robust and independent legal and human resource capacity.
"We also need a robust independent grievance and complaints process here in Parliament."
In a speech at the Confederation of British Industry (CBI) conference earlier Mrs May said: "We need to establish a new culture of respect at the centre of our public life.
"One in which everyone can feel confident that they are working in a safe and secure environment, where complaints can be brought forward without prejudice and victims know that these complaints will be investigated properly.
"Political parties have not always got this right in the past. But I am determined to get it right for the future."
[ad_2]

Source link