PM plans new ministerial code after Priti Patel apology
[ad_1]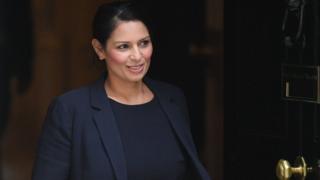 Theresa May wants the ministerial code of conduct to be tightened – after it was revealed Priti Patel held secret meetings with Israeli officials.
The international development secretary apologised for holding 12 meetings, including one with Israeli PM Benjamin Netanyahu, while on a private holiday.
She was "reminded of her obligations" as a cabinet minister, Mrs May said.
The BBC understands Ms Patel suggested some of Britain's aid budget go to the Israeli army, after the visit.
She asked her officials to see if Britain could support humanitarian operations conducted by the Israeli army in the occupied Golan Heights area.
The BBC understands the Foreign Office advised that since Britain did not officially recognise Israel's annexation of the area, it would be hard for the Department for International Development to work there.
The BBC revealed on Friday that Ms Patel held a number of undisclosed meetings with business and political figures during a family holiday in August.
She met with Yair Lapid, the leader of Israel's centrist Yesh Atid party, and Jean Judes, executive director of disability charity BIS, among others.
No diplomats were present at the meetings, at which the minister was accompanied by an influential pro-Israeli Conservative peer and lobbyist, Lord Polak.
Ms Patel admitted how the meetings were set-up "did not accord with the usual procedures".
Lord Ricketts, former head of the Diplomatic Service, said her actions were unprecedented.
He told BBC Radio 4's World Tonight programme: "I can't think of a precedent where a senior minister visits a country, has an extensive programme like this without the Foreign Office, the foreign secretary or even the ambassador in the country knowing about it."
Meanwhile, Labour's shadow cabinet office minister Jon Trickett said there had been a "clear breach" of the ministerial code.
Shadow international development secretary Kate Osamor called for an investigation. She described Ms Patel's apology as "a desperate last-ditch attempt… to save her job".
'Lack of precision'
Ms Patel, who is a long-standing supporter of Israel and a former vice-chairman of Conservative Friends of Israel, defended her actions.
She said she had paid for the holiday herself and while in Israel had taken the opportunity to meet "people and organisations" for the purpose of building links between the two countries.
She admitted a "lack of precision" for suggesting last week that Foreign Secretary Boris Johnson knew about the trip, and that only two meetings had taken place when she attended 12.
On Monday, Mrs May told reporters she had spoken to Ms Patel and accepted her apology.
Downing Street said the ministerial code was "not explicit" and Cabinet Secretary Sir Jeremy Heyward had been asked to see if it could be made clearer.
[ad_2]

Source link