Retailers hit by worst non-food sales on record in October
[ad_1]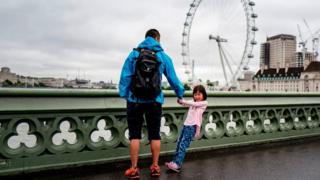 Sales of non-food items grew at the slowest pace since records began as families chose days out over shopping, the British Retail Consortium has said.
Non-food sales rose by just 0.1% in the three months to October, marking their poorest performance since January 2011,
The BRC, which monitors sales with the accountancy firm KPMG, said the figures would give retailers "cause for concern" in the run up to Christmas.
Clothing sales were "particularly hard hit", the BRC said.
Total retail sales, including food, rose just 0.2% last month, compared to 2.4% last year. On a like-for-like basis, which excludes new store openings, sales were down 1%.
The High Street struggling to survive
BRC chief executive Helen Dickinson said "consumers appear to have opted for outdoor experiences and excursions during half term, over visits to the shops".
The figures come just seven weeks before Christmas, the key trading period for most retailers.
Ms Dickinson said that the rise in inflation, which hit its highest for more than five years in September, was making shoppers "ever more cautious in considering what purchases they can afford".
'Reversal of fortunes'
Paul Martin, head of retail at the accountancy firm KPMG, said that October marked a "reversal of fortunes for retailers".
He said: "After a brief uptick, fashion sales reverted back to the dreary theme we have seen for a number of months this year. Unseasonably warm weather last month will not have helped, but this is unlikely to be the only reason the new ranges are proving unpopular."
Mr Martin said that retailers will be hoping that consumers are saving up for Black Friday, the post-Thanksgiving shopping bonanza in the US which has become a key date for retailers in the UK.
This year it falls on 24 November, two days after the Budget.
Ms Dickinson said that the Chancellor Philip Hammond should reflect on the "disappointing state of play" when he gives his speech on 22 November and "deliver a Budget that allays the risks of a further slowdown in consumer spending, by keeping down the cost of living. In other words, a shoppers Budget."
[ad_2]

Source link