Priti Patel's cabinet future in doubt over Israel trip row
[ad_1]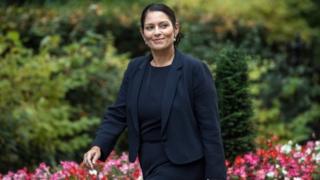 Priti Patel's future as international development secretary is understood to be increasingly uncertain amid a row over her conduct in a visit to Israel.
She has apologised for meeting Israeli PM Benjamin Netanyahu in August without telling the Foreign Office in advance.
Labour want an inquiry into whether she has broken the ministerial code.
BBC political editor Laura Kuenssberg said sources suggested Ms Patel was in "serious trouble" as new details about unofficial meetings were examined.
The Sun reported that No 10 had demanded Ms Patel "come clean" about any other meetings that she had had with foreign politicians.
The Press Association said it was understood she had held two further unauthorised meetings with senior Israeli political figures which were not attended by UK government officials.
The BBC's political editor said Ms Patel, who is currently on an official trip to Africa, was still in her post and she had not spoken to Prime Minister Theresa May on Tuesday evening.
Ms Patel has been under growing pressure since it emerged last week she met a series of senior Israeli government and business figures while on a private holiday to Israel in August.
No diplomats were present at the meetings but Ms Patel was accompanied by Conservative peer and campaigner Lord Polak, president of the Conservative Friends of Israel,
Ms Patel was forced to correct the record earlier this week about the number of meetings that she had attended and when the Foreign Office had been notified about them.
The MP said she had been wrong to suggest to the Guardian that Foreign Secretary Boris Johnson knew of the trip in advance when he had only learnt about it while it was under way.
Earlier on Tuesday, it emerged that upon her return Ms Patel had asked the Foreign Office to consider supporting humanitarian operations conducted by the Israeli army in the occupied Golan Heights area – a request that was turned down as "inappropriate" by officials.
In the Commons earlier, Foreign Office minister Alistair Burt said that Downing Street regarded the matter "as closed" after Ms Patel had been reprimanded by the prime minister and reminded of her obligations under the ministerial code.
Ms Patel, who has been an MP since 2010, is a long-standing supporter of Israel and a former vice-chairman of Conservative Friends of Israel.
[ad_2]

Source link